Biel/Bienne is Switzerland's largest bilingual town. German and French have equal rights here. This town is also the cradle of Swiss watchmaking.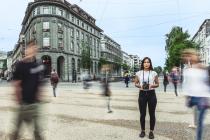 Biel, the largest bilingual city in Switzerland, is situated directly at Lake Biel.

Besides events of national and international significance, Biel offers a host of other cultural highlights as well. The
Neues Museum Biel
and the
Pasquart
are two important museums near the lake. In 2004, Biel was awarded the Wakker prize by the Swiss Heritage Society for its exemplary townscape protection.
Most visitors imagine Biel to be an industrial town, and they are surprised to find that it has a well-preserved medieval centre. This
historc part
of town invites to go on a stroll through the charming alleys and along the picturesque squares and terraces with the pretty little shops.
In Biel, you will hear people converse in German and in French. In the largest bilingual city of Switzerland, all streets and official buildings are signposted in both languages. The mixture of German and French-speaking inhabitants makes Biel an especially charming place.
This bilingualism is a result of the watchmaking industry. In the middle of the 19th century, Biel became Switzerland's most important watchmaking centre. The numerous watchmakers from the Jura who found work in Biel brought the French language with them. To this day, renowned brands such as Omega and Swatch are headquartered in Biel.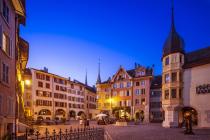 Biel's old town. © Tourismus Biel Seeland | Stefan Weber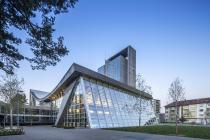 Congress building, Biel/Bienne. © Tourismus Biel Seeland | Stefan Weber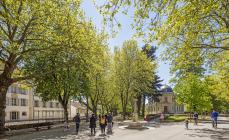 Schüsspromenade, Biel. © Tourismus Biel Seeland | Stefan Weber
Famous for its charming alleys, beautiful facades and venerable corporate houses, the old town is a privileged place in the heart of the city of Biel.