Boat trips on Lake Biel and the Aare are still suspended due to the high water, swimming is still not recommended.

Discover our hiking tips. Whether it's a scenic hike through the vineyards or cooling off in one of the gorges, everyone will find their happiness at Lake Biel.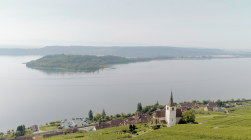 Famous for its charming alleys, beautiful facades and venerable corporate houses, the old town is a privileged place in the heart of the city of Biel.
Soak up the sun and recharge your batteries on the beautiful terraces of our region. Finally, the terraces are open again! Enjoy a cup of coffee or let us spoil you with culinary delights, the hosts are looking forward to welcoming you.
Lake Biel is situated at the German and French language border, and it is the eight-largest lake of Switzerland.