I need... Jura & Three-Lakes
Being an epicurean on the shores of Lake Murten, exploring mysterious gorges, sailing with the wind in your hair on Lake Biel, escaping to the pastures of the Jura or getting lost in the narrow streets of charming villages...

What if the perfect place to escape from everyday life was in Switzerland? In the Jura & Three-Lakes region to be more precise...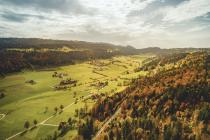 In Biel, in the changing Gurzelen area, stands the impressive Cité du Temps, designed by the famous Japanese architect Shigeru Ban. Housing the Swatch and Omega museums under the same roof, the Cité du Temps offers a fascinating insight into the history of these two iconic watch brands, which have shaped the city's history.
At the top of the Col de la Tourne Pass, there is a small magical place, much loved among the people of Neuchâtel: the Rochers de Tablettes. The ascent to the pass can be made by car or post bus, or even by bike for the more athletic. From the summit, there are numerous hiking trails that take you through the orange forests of the Neuchâtel Jura.
Tête de Moine is the emblematic cheese of the Jura and Bernese Jura. From the care given to the cows that produce the milk needed to make it, to its maturation in the local cellars, discover all the secrets of this cheese that is lovingly cut into rosettes.
From Delémont to Saignelégier, crossing Porrentruy and Saint-Ursanne, the Chemin du Jura is a splendid five-stage hiking route. Wide open spaces, breathtaking views and relaxation away from the hustle and bustle of the cities - all the ingredients you need for an energising hike in nature.
We take you to the heights of the city of Neuchâtel, where a small urban oasis lays: the Vallon de l'Ermitage. The famous writer Friedrich Dürrenmatt was particularly fond of this place, where he lived and produced his major works.
Did you know that dragonflies inspired the creation of helicopters? Learn more about these extraordinarily fascinating insects on the Libell'lay trail. Then head to the Maison de la Tête de Moine, where you can learn everything about how this typical cheese is being made!
Epicurean at heart? Let yourself be tempted by a gourmet tour around Lake Murten and savour the delicious local specialities on the go!
The locals report that in the past witches used to come and bathe in the Combe du Pilouvi, on the heights of La Neuveville. Witches or not, with its staircases cut into the rock, its joyful waterfalls and its pools, this gorge is everything you would expect of a magical place!
Turquoise waters, green vineyards, golden sunshine, refreshing walks and cosy evenings by the water: Lake Biel's region is undoubtedly a little summer paradise!