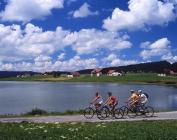 Technical | Fitness level

Family friendly | Very easy

Technical | Fitness level
The valley of La Brévine, renowned for its polar chill, is one of the most attractive for cyclists.
A name that could send shivers down your spine – but there's no danger of getting frozen in here, at least during summer! Actually, you'll enjoy the fresh air as you admire the pretty scenery in this legendary valley with its enchanting reed-fringed lake. A 27-km flat route for relaxed riding amid typical Jura countryside.
- Chance to swim in the Lake of Les Taillères