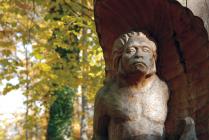 Technical | Fitness level

Technical | Fitness level
Trail down the side of the Chaumont, marked with wood sculptures.
Seventeen sculptures along this occasionally steep route take you back in time, from the Big Bang to the emergence of humans. As you leave Chaumont, you'll be stunned by the view of the Three Lakes Region and the Alps. Then, each meter of the sculpture-lined path represents a million years as you descend through the forest to reach upper Neuchâtel.
The "Funi-Nature" guide, sold in our visitor centres, gives hikers additional information about evolution, pre-history, nature, the forest, geology, crafts and landscape
Didactic panel at the start of the hike in French and German