The oldtwon Murten is situated on a hill at the Murtenlake.

Murten from the sky – Castle Side. © Fribourg Region
Murten, located in the heart of the Three-Lakes region between Bern and Lausanne, is the capital of the Lake District (canton of Fribourg). As a small medieval town, situated on the Swiss plateau on the edge of the Grand Marais, Murten overlooks the lake which gave it its name (453 m. alt.).

Murten offers its visitors many sights, such as its castle, its ramparts, its picturesque lanes and its arcades.
Of the 8,218 inhabitants, most speak German (83%) and a minority French (15%). Bilingualism is deeply rooted in the region.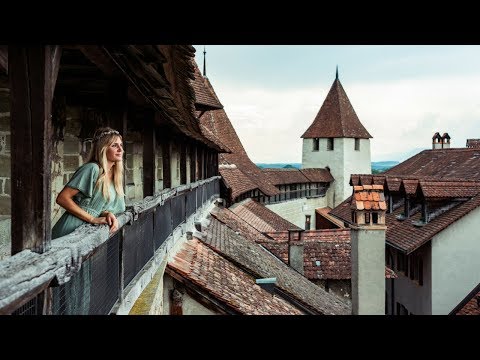 Murten - Once upon a time
Visit the town of Murten in a special way! Thanks to the Secret Tour of Murten, you and your family can discover confidential places full of magic.