A tour round the most beautiful villages
Porrentruy – Büren an der Aare

From Porrentruy to Büren an der Aare, across the green Jura countryside
Formerly an episcopal principality, subsequently raised to the rank of a capital, it later became the seat of a French "département" but then demoted to the status of a sub-prefecture, Porrentruy is historically a town - but one with the population and soul of a village. This tiny city has experienced many ups and downs and its rich and turbulent history has shaped it into an ancient centre of the region with a wealth of historic architecture.

Elliptical in shape, the historical centre of Porrentruy has been miraculously preserved, endowing the city with a unity and architectural heritage which is quite exceptional. Both sides of the Grande Rue are occupied by Gothic, baroque and neo-classical houses of the wealthy former owners, not to mention the innumerable fountains, museums and buildings clad with cut stone. Traces of the past can be found everywhere in Porrentruy.

After passing through the Faubourg de France with its medieval charm, fortified gate and former moats, the visitor reaches the imposing castle which was the residence of the prince bishop of Basel for more than 200 years. The view over this city of the Ajoie region can be admired from the Tour Réfous, a view which contrasts with the unspoiled countryside of the surrounding plain.

History has bequeathed a valuable heritage to Porrentruy. However, its historic roots do not detract from its cultural and social dynamism. Traditions are also very much alive, for example the Saint Martin festival when the gastronomic competitions attract thousands of visitors every year to this pretty little city of the Jura.

On leaving Porrentruy an attractive itinerary takes the visitor to the orchards of the Ajoie region, a marvellous setting for the distilleries of the celebrated Damassone AOP. Discerning food-lovers will want to stop off at the château de Pleujouse, famous for its restaurant, which towers above the pretty village of the same name. The Col des Rangiers is reached after passing through Asruel before joining the Transjurane highway a little before Delémont; the road then snakes its way to the Swiss plateau.

The next stop on our journey across the most attractive villages of the Jura & Three-Lakes region is Büren an der Aare.
As you follow your route do not miss the château de Pleujouse and its restaurant, the old town of Delémont and the chapel of Vorbourg.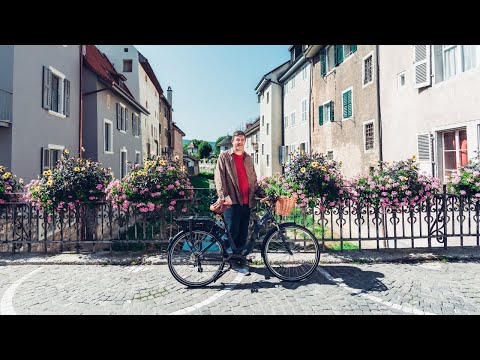 Porrentruy - In search of taste
Chambres d'hôtes - Manoir de la Côte-Dieu
Restaurant du Château de Pleujouse
Vorbourg Chapel and ruins
Porrentruy - Büren an der Aare
Porrentruy - Büren an der Aare
Download GPX