Water sports
Treasure hunt by canoe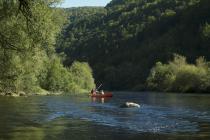 Treasure hunt by canoe. © Stefan Meyer
Canoeing adventure with a treasure hunt on the river Doubs ! The booklet helps to find the hidden posts and access the treasure chest, which contains the answers to the questions in the booklet as well as a small souvenir for each participant.
"This summer we spent our family holidays in the Jura and we wanted to do some canoeing. At the tourism office we were told about an interesting way to explore the river Doubs: by going on a treasure hunt in a canoe! We liked the idea right away. At the start we were given a treasure hunter's booklet needed for this adventure as well as a life jacket. We got into our canoes and took off to find the underwater posts. We had to pull on a chain at each one and find a plate hidden in a tube which contained valuable hints. At the end of our canoe trip on the Doubs we went back to the tourism office where the treasure chest is hidden in the trees. By means of a pulley we were able to secure the chest and open it using the hints we had collected. In it we found the answers to the questions in the booklet which we then had to hand in at the tourism office in order to receive a small gift and participate in a contest. We had such fun on this adventurous canoeing trip!"

Pauline
With the JURA-PASS, get a 20% discount on 1 scavenger hunt in canoe
Duration: approx. 1 hour.
Small children must be accompanied by their parents.
Last departure at 4.30 p.m.
Accessibility

Free parking
Booking required
Suitable for families

Services

Suitable for groups
On-site equipment rental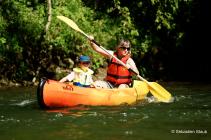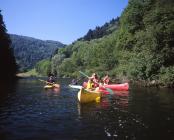 Treasure hunt by canoe. © Christof Sonderegger