Mountain Bike
BielTrail
Magglingen – Biel/Bienne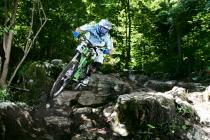 Technical | Fitness level

Sporty | Very challenging

Technical | Fitness level
This downhill trail consists of some steep, stone and root sections.
Meet at the bottom of the Magglingen funicular for a biking session among friends. Different jumps with short, steep and rocky passages. This has fast flowing sections with lots of bumps. There are 15 jumps (2 – 9 m, doubles, step-ups and tables) along the route. However, all obstacles can be bypassed.
The rail service is out of service from 8 April until 30 August 2019 due to a total overhaul. Travellers to Magglingen are asked to take the Funicular Leubringen. Buses will run between Leubringen and Magglingen as a replacement for the rail service.
Access: from Biel/Bienne take the funicular to Magglingen.
Option: you can buy a daily (CHF 30.00) or half-daily ticket (CHF 20.00).
Bike-Wash is located behind the lower station of the Biel/Bienne-Macolin funicular.