Vacation Apartments
Appartement - La Laiterie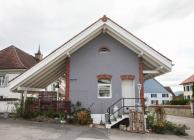 Located at the centre of a small village with a population of 500, this former dairy will win you over with its cocooning-style atmosphere. Furnished by www.atelierkarma.ch, this house is composed of two floors. The ground floor serves as a living room/kitchen. It is notably equipped with a beamer and a giant screen. The upper floor is a large bedroom for two (with a big 180x200cm bed), along with a WC and bathtub. The only other lodger in the house is a cat named Bonobo.
With the Jura-Pass, make the most of free public transport and get reductions on a range of activities in the region.
For more information and offers:[https://www.juratourisme.ch/en/jura-pass.12063.html]( https://www.juratourisme.ch/en/jura-pass.12063.html)
Kindly note that this accommodation is not suitable for children. The heating system is fuelled by wood and pellets. Free onsite parking.
Check-in: from 3pm. Check-out: until 1pm, or by special agreement.
Access: the house is located near the bus stop. Buses run ever 20° to and from Delémont. This enables you to make the most of the Jura Pass which gives all visitors to the Canton of Jura free access to all public transport within the "Vagabond" zone.
Nearby is a village grocery store stocking a wide range of quality organic/regional produce, as well as a post office.
Accessibility

Free parking
Pets allowed
Booking required
Pets allowed

Services

Garden
Balcony/terrace
TV Room
Wifi
Terrace