★★★⁺ Bed & Breakfast
Chambres d'hôtes - Gîte La Bergerie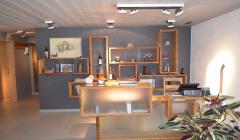 The Amschutz family looks forward to welcoming you to our charming holiday home located in a hamlet in the heart of the Ajoie region. This is a calm, restful place, ideal for hiking enthusiasts, bike excursions and nature lovers.
Le Bergerie holiday home consists of 7 spacious, cosily decorated double rooms with private bathrooms and three dormitories (2 with 10 places and 1 with 8). It should be mentioned that the ground floor offers a room specially adapted for disabled guests.
Two dining rooms (40 places in the first and 20 in the second) are available on request for tables d'hôtes (set-menu meals), brunches or cocktail functions in addition to an The Amschutz family looks forward to welcoming you to our charming holiday home located in a hamlet in the heart of the Ajoie region. This is a calm, restful place, ideal for hiking enthusiasts, bike excursions and nature lovers. Le Bergerie holiday home consists of 7 spacious, cosily decorated double rooms with private bathrooms and three dormitories (2 with 10 places and 1 with 8). It should be mentioned that the ground floor offers a room specially adapted for disabled guests. Two dining rooms (40 places in the first and 20 in the second) are available on request for tables d'hôtes (set-menu meals), brunches or cocktail functions in addition to an attractive, well-equipped carnotzet (cosy wine cellar area seating 15) located in the basement. Also available: a sleep on straw dormitory for 20 as well as horseboxes. Regional produce can be purchased from the reception, where group excursions can also be arranged for a minimum of ten people.
With the Jura-Pass, make the most of free public transport and get reductions on a range of activities in the region.
For more information and offers: https://www.juratourisme.ch/en/jura-pass.12063.html
Rates: CHF 145.- per night for two people including breakfast and (CHf 100.- per night for a single).
Tourist tax: supplement of CHF 3.- per person per night (children under 16 are exonerated).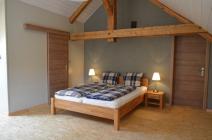 The trail leads to the Damassine prune trees, which grow wild and, according to legend, were brought over by crusaders from Damascus a long time ago.