Riding
Tourisme Equestre Courtedoux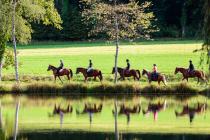 Tourisme Equestre Courtedoux. © Vincent Bourrut
David Protti offers rides on covered wagons or open horse wagons in the plains of the Ajoie. Possibility to have a fondue on the horse wagon.
15 horses
12 covered wagon
5 horse wagon
5 wagons to eat a fondue
1 special wagon for wheel chairs
Accommodation on site "Hôtât di Loup"
Prices for groups

Ride on a covered wagon (price for one day)

Fondue on a horse wagon from 8 to 12 people (20 CHF per person for the fondue)

Fondue on a horse wagon from 12 people (20 CHF per person for the fondue)

Prices per person
Accessibility

Free parking
Booking required
Suitable for families
Wheelchair accessible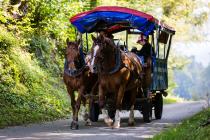 Tourisme Equestre Courtedoux. © Vincent Bourrut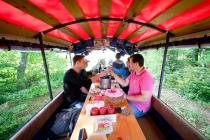 Tourisme Equestre Courtedoux. © Vincent Bourrut