Event − Sport
Villeret - Chasseral - Villeret foot race
The
An unique and original hiking race.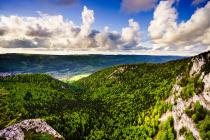 Combe Grède. © Vincent Bourrut
The VCV is a run from Villeret, in the Bernese Jura (760 metres), to Chasseral (1607 metres) and back to Villeret. The route takes you through magnificent landscapes. The partially steep paths are bordered with beautiful forests, pastures and typical Jura wood-pastures. The sublime view from the ridge of the Chasseral Mountain is particularly worth mentioning.