Bed & Breakfast
B&B Lonywood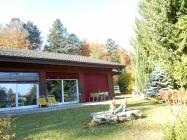 B&B Lonywood was opened in May 2000 and offers modern furnished rooms. Secluded but still easy to reach, it offers peace and relaxation!
The friendly familiar atmosphere ensures that everyone feels at home here.
Terrace, garden, parks and sports facilities close by.
Breakfast buffet, car park and local taxes are included. Interesting prices for clubs, schools and families.
PLEASE NOTE: Online booking not possible. Please contact directly the owner via e-mail or phone.