Group Accommodation
Hébergement collectif - Tariche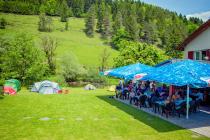 Tariche. © Gaëlle Schwimmer
In addition to our small hotel, we offer dormitory rooms for groups of 2 to 6 people. Ideally located directly on the banks of the Doubs river, it offers a chance to fish, paddle canoes and plenty of walks.
Trout and ham specialities.
Disabled access.
Closed from mid-November to mid-March.
We are available for quotes and/or bookings by phone on +41 (0)32 433 46 19.
Accessibility

Wheelchair accessible
Pets allowed