Event − Festivity, Festival
Festival du Film Français d'Helvétie
From to
The FFFH presents five days dedicated to the French-speaking cinema in the city of bilingualism.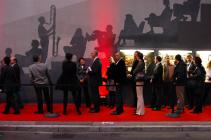 The Festival du Film Français d'Helvétie invites French films and artists into the German speaking part of Switzerland. Biel, the largest bilingual city in Switzerland, plays its role as a bridge between German and French-speaking inhabitants of Switzerland by using a universal language, the cinema. In recent years, the festival welcomed over 260 talents and showed more than 320 movies (most of them with German subtitles). Short films are shown as part of the competition in the "Section découverte".

The FFFH devotes its program to the French / French-speaking films and provides an insight into Swiss filmmaking. Five days, during which forty feature films, including numerous Grandes Premières, are shown in Biel in their original language and (most of them) with German subtitles.
From 11 Sep 2019 to 15 Sep 2019
- Locations: REX 1, REX 2 and Apollo