Guided city tours
Train touristique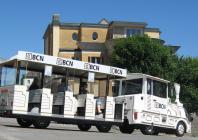 Tourist train La Chaux-de-Fonds / Le Locle. © Anne Monard
Découvrir la symbiose entre urbanisme et horlogerie, confortablement installé.
Sans effort et confortablement installé, le visiteur explore les quatre coins de la ville, s'imprégnant de la symbiose entre urbanisme et horlogerie. Unique en son genre, la visite offre également un aperçu des trésors Art nouveau et des villas de Le Corbusier.
From 1 Jun 2019 to 30 Jun 2019
From 1 Jul 2019 to 31 Aug 2019
From 1 Sep 2019 to 30 Sep 2019
Accès en transports publics : bus n° 301, 303, 311 ou 312 (arrêt Théâtre)
Départ de la Place Espacité : 14h, 15h, 16h
Ne circule pas en cas de mauvais temps
Réservation obligatoire pour les groupes entre 10 et 50 personnes ou hors horaire
Langues : Français, allemand et anglais. Chinois uniquement pour les courses hors horaire
En cas de manifestation spéciale sur la Place Espacité, le départ du train se fait depuis l'Espace de l'urbanisme horloger, Rue Jaquet-Droz 23 (3min à pied).
Prices for groups (from 10 persons)

Seniors, Students, Children (from 3 years old)

Prices per person

Seniors, Students, Children (from 3 years old)

Family (2 adults and children from the same family)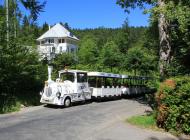 Tourist train La Chaux-de-Fonds / Le Locle. © Anne Monard

Tourist train La Chaux-de-Fonds / Le Locle. © Anne Monard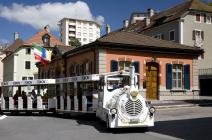 Tourist train La Chaux-de-Fonds / Le Locle. © Anne Monard