Watches
Guillochage workshop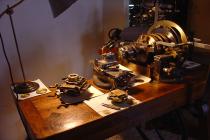 Today, this art is almost exclusively reserved for prestige watchmaking. The machines date from the end of the 18th century and the beginning of the 20th.
"The house may not look like much from the outside but once Mr. Brodbeck, a small man with bright eyes, opens the door, we plunge into another world - the world of craft and luxury watchmaking. The workshop is small, well equipped and extremely tidy. There are four or five machines in the room. On the handle of one of them we can see the brand name but also the wear caused by the workers' fingers. It is absolutely fascinating to hear one of the last guillochage craftsmen in Europe telling us about the precision with which we works on some of the almost unique pieces. We are immersed in the culture of an entire region and we begin to feel it. A unique experience."

Téo
- Visits must be booked in advance. Prices on request.
Accessibility

Booking required
Accessible by public transport