Guided city tours
The wages of the Suze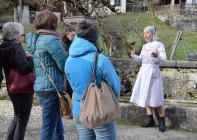 Wages of the Suze, Courtelary. © Jura bernois Tourisme
"They came here to find work; you will make some incredible discoveries." An actor, a guide, workers from the past and artisans from the present appear and disappear without warning in this theatrical tour.
"This theatrical-tour through the bucolic village of Courtelary taught me about the working lives of the region's men and women in times gone by. Throughout the tour, the history told by the guide was interrupted by people appearing down the street telling everyday stories from the past. The tour of the Langel factory, which remains in exactly the same state as in 1917, was a wonderful end to this enjoyable journey back in time, full of surprises and opportunities to sample local produce."

Sara
Duration: 2h
language: french and german
Groups: date upon request, from 7 to 60 persons (booking in advance, all year round at the tourism office)
Meeting place: on the piazza, in front of the entry of CHEZ Camille Bloch
Prices for groups

Individual entry Salaire de la Suze

Children under 10 years (participation is not recommended for reasons of comprehension)

Family Package (valid only for 2 adults and 2 children)

Combined entrance to the Salaire de la Suze and the CHEZ Camille Bloch Discovery Tour

Family Package (valid only for 2 adults and 2 children)

Entry Salaire de la Suze and snacks CHEZ Camille Bloch

Family Package (valid only for 2 adults and 2 children)
Accessibility

Booking required
Accessible by public transport
Custom hours on request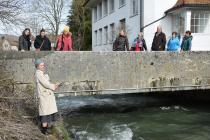 Wages of the Suze, Courtelary. © Jura bernois Tourisme
Grand-Rue 21

2608

Courtelary
La Chocolaterie à croquer !
takes you on a journey of taste and discovery, a course of which you alone determine.